Birth Certificate of Isabella Sinton - 3 September 1896

[RFSS May 2017]

Ireland, Civil Registration Birth Indexes
Name: Isabella Sinton
Event Date: Oct - Dec 1896
Event Place: Banbridge, Ireland
Registration District: Banbridge
Registration Quarter and Year: Oct - Dec 1896
Volume Number: 1
Page Number: 151
Index Number: 335
Birth was not registered until 9 October.
[RFSS Feb 2014]

Cousin to Ellen Gardiner, wife of her brother Richard James Sinton.



1901 Census record taken on Sunday, 31 March.

Residents of a house 25 in Cabra (Mullaghbrack, Co. Armagh)
| | | | | | | |
| --- | --- | --- | --- | --- | --- | --- |
| | Surname | Forename | Age | Sex | Relation to head | Religion |
| 1 | Sinton | William | 33 | Male | Head of Family | Church of Ireland |
| 2 | Sinton | Mary Anne | 33 | Female | Wife | Church of Ireland |
| 3 | Sinton | Lillie | 9 | Female | Daughter | Church of Ireland |
| 4 | Sinton | Robert | 8 | Male | Son | Church of Ireland |
| 5 | Sinton | Fredrick | 6 | Male | Son | Church of Ireland |
| 6 | Sinton | Isabella | 4 | Female | Daughter | Church of Ireland |
| 7 | Sinton | Richard | 2 | Male | Son | Church of Ireland |
Birthplace
Occupation
Literacy
Marital
Status
Specified
Illnesses
1
Co. Armagh
Farmer
Read and write
Married
-
2
Co. Armagh
-
Read and write
Married
-
3
Co. Armagh
Scholar
Read and write
Not Married
-
4
Co. Armagh
Scholar
Read and write
Not Married
-
5
Co. Armagh
Scholar
Read and write
Not Married
-
6
Co. Armagh
Scholar
Read and write
Not Married
-
7
Co. Armagh
-
Cannot Read
Not Married
-
[RFSS Jun 2010]



1911 Census record taken on

Sunday, 2 April.

Residents of house number 3 in Cabragh (Mullaghbrack, Co. Armagh)
| | | | | | | |
| --- | --- | --- | --- | --- | --- | --- |
| | Surname | Forename | Age | Sex | Relation to head | Religion |
| 1 | Sinton | William | 43 | Male | Head of Family | Church of Ireland |
| 2 | Sinton | Mary Ann | 43 | Female | Wife | Church of Ireland |
| 3 | Sinton | Lily | 19 | Female | Daughter | Church of Ireland |
| 4 | Sinton | Robert | 18 | Male | Son | Church of Ireland |
| 5 | Sinton | Fredrick | 16 | Male | Son | Church of Ireland |
| 6 | Sinton | Ella | 14 | Female | Daughter | Church of Ireland |
| 7 | Sinton | Richard | 12 | Male | Son | Church of Ireland |
| 8 | Sinton | Sarah | 10 | Female | Daughter | Church of Ireland |
| 9 | Sinton | John | 6 | Male | Son | Church of Ireland |
Birthplace
Occupation
Literacy
Marital
Status
Years
Married
Children
Born
Children
Living
1
Co. Armagh
Farmer
Read and write
Married
20
8
7
2
Co. Armagh
-
Read and write
Married
20
8
7
3
Co. Armagh
-
Read and write
Single
-
-
-
4
Co. Armagh
Farmers Son
Read and write
Single
-
-
-
5
Co. Armagh
Farmers Son
Read and write
Single
-
-
-
6
Co. Armagh
Scholar
Read and write
Single
-
-
-
7
Co. Armagh
Scholar
Read and write
Single
-
-
-
8
Co. Armagh
Scholar
Read and write
Single
-
-
-
9
Co. Armagh
Scholar
Read and write
Single
-
-
-
[RFSS Jan 2010]



Ellis Island, New York - Passenger Record

Isabella was originally booked to travel on the R.M.S. Aquitania which arrived in New York on January 30, 1921, but her name has been struck off on that manifest.

First Name: Isabella

Last Name: Sinton

Ethnicity: Ireland, Irish

Last Place of Residence: 186 Callender Ave, Detroit, Michigan

Date of Arrival: May 27, 1921

Age at Arrival: 23y

Gender: F

Marital Status: S

Ship of Travel: Caronia

Port of Departure: Liverpool

Manifest Line Number: 0023

Living with her brother Richard Sinton.

She lived in Detroit for 4 years between 1916 and 1920.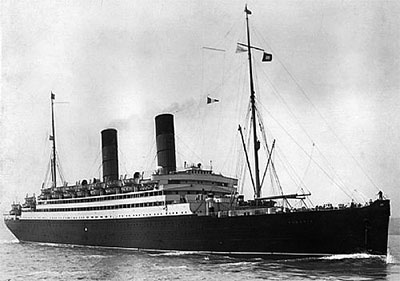 Cunard Line - R. M .S. Caronia

Built by John Brown & Company, Clydebank, Scotland, 1905. 19,524 gross tons; 678 (bp) feet long; 72 feet wide. Steam quadruple expansion engines, twin screw. Service speed 18 knots. 1,550 passengers (300 first class, 350 second class, 900 third class).

Built for Cunard Line, in 1905 and named Caronia. Liverpool-New York service. Armed merchant cruiser, then troopship during World War I. Scrapped in 1933.


[RFSS Sep 2005]

United States Social Security Death Index
Given Name: Isabella
Surname: Gardiner
Birth Date: 3 Sep 1896
State: Michigan
Last Place of Residence: Albuquerque, Bernalillo, New Mexico
Previous Residence Postal Code: 87110
Event Date: May 1984
Age: 88
[RFSS Oct 2015]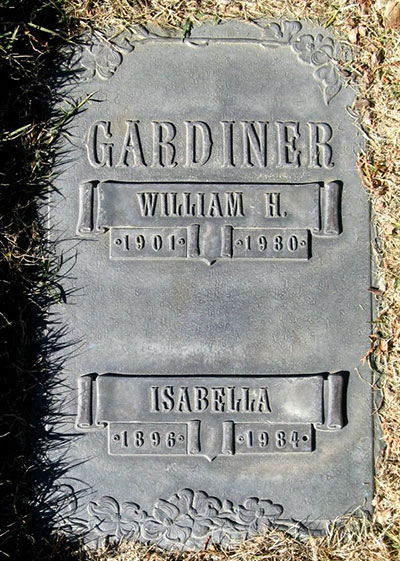 Headstone of Isabella Gardiner (née Sinton) 1896 - 1984

Fairview Memorial Park Cemetery, Albuquerque, Bernalillo County, New Mexico


The headstone photo comes from the Find A Grave website courtesy of CryptoGram
The location is Fairview Memorial Park Cemetery, Albuquerque, Bernalillo County, New Mexico, United States of America.
Link to the Find A Grave site for Isabella Gardiner
[RFSS Feb 2016]