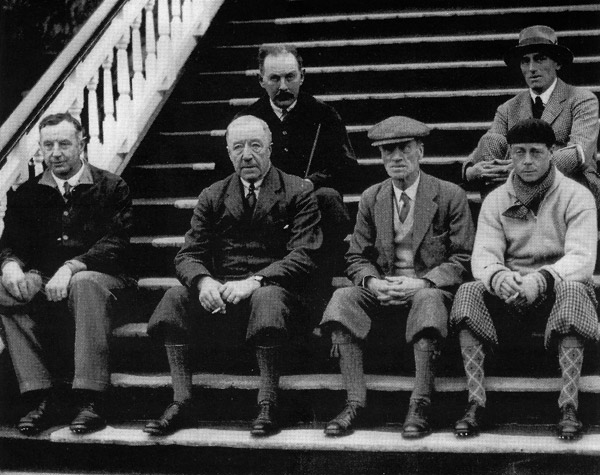 Photograph taken at the Royal County Down Golf Club in 1921.
Front row:
Wilson Smyth, Fred Rodgers, A. Fullerton CB and Edward Prince of Wales.
Back row:
Major Hammond Smith and Rt Hon Sir Harry Mulholland.

Birth Certificate of David Wilson Smyth - 12 November 1876

[RFSS Nov 2019]

Ireland Births and Baptisms, 1620-1881
Name: David Wilson Smyth
Gender: Male
Birth Date: 12 Nov 1876
Birthplace: Down, Ireland
Father's Name: William Smyth
Father's Birthplace: Brookfield
Mother's Name: Jane Smyth Wilson
Registration District: Banbridge
Volume Number: 1
Page Number: 184
Index Number: 290
[RFSS Nov 2011]



1901 Census record taken on Sunday, 31 March.

Residents of a house 12 in Drumnagally (Banbridge Rural, Co. Down)
Originally named Drumnagally House but later changed to Brookfield House.
| | | | | | | |
| --- | --- | --- | --- | --- | --- | --- |
| | Surname | Forename | Age | Sex | Relation to head | Religion |
| 1 | Smyth | William | 65 | Male | Head of Family | Presbyterian |
| 2 | Smyth | Jane Robinson | 45 | Female | Wife | Presbyterian |
| 3 | Smyth | David Wilson | 24 | Male | Son | Presbyterian |
| 4 | Ferguson | Lucinda Evelyn | 22 | Female | Daughter | Presbyterian |
| 5 | Connell | Annie | 27 | Female | Servant | Roman Catholic |
| 6 | Richardson | Sarah Jane | 25 | Female | Servant | Church of Ireland |
Birthplace
Occupation
Literacy
Marital
Status
Specified
Illnesses
1
Co. Down
Linen Merchant
Read and write
Married
-
2
Co. Limerick
-
Read and write
Married
-
3
Co. Down
Linen Merchant
Read and write
Not Married
-
4
Co. Down
-
Read and write
Married
-
5
Co. Down
Cook Domestic
Read and write
Not Married
-
6
Co. Down
Domestic
Read and write
Not Married
-
[RFSS Nov 2011]



1911 Census record taken on

Sunday, 2 April.

Residents of a house 4.3 in Shore Road (Newcastle, Co. Down)
| | | | | | | |
| --- | --- | --- | --- | --- | --- | --- |
| | Surname | Forename | Age | Sex | Relation to head | Religion |
| 1 | Gordon | Maria | 68 | Female | Head of Family | Unitarian |
| 2 | Smyth | Vera | 30 | Female | Daughter | Unitarian |
| 3 | Smyth | David Wilson | 34 | Male | Son in Law | Presbyterian |
| 4 | Andrews | Helen | 47 | Female | Visitor | Church of Ireland |
Birthplace
Occupation
Literacy
Marital
Status
Years
Married
Children
Born
Children
Living
1
Co. Antrim
-
Read and write
Widow
-
8
6
2
Co. Down
-
Read and write
Married
1
-
-
3
Co. Down
Linen Trade
Read and write
Married
1
-
-
4

Co. Antrim

-
Read and write
Widow
-
-
-
[RFSS Nov 2019]

David Wilson Smyth was born on 12th November 1876, the eldest child of William's second marriage to Jane Robinson Wilson. Wilson married Vera Gordon who was born on 6th January 1881. As was previously mentioned, Vera was the aunt of Jean Ferguson, she being a sister of Malcolm Gordon, Jean's father. It was through the Gordons that the Smyths became connected to the Barbours.

Wilson and Vera had five children - William, Edmund Fitzgerald (named after his uncle and better known as Teddy), Vera and Moira; a fifth child died soon after birth.

Wilson and his wife lived for part of their lives at Huntly House before moving to 'The Limes' in Malone Park, Belfast.

Wilson was educated at Royal School, Dungannon, County Tyrone. After his education he went directly into the family firm of 'Smyth's Weaving Co Ltd', serving for many years as a Director. He was also a Director of the 'Belfast Ropeworks Co Ltd' as early as June 1925, replacing the late R J McKean MP. Another well-known Director of the 'Belfast Ropeworks' was the Right Honourable John Miller Andrews DL MP, who succeeded Sir James Craig as Prime Minister of Northern Ireland in 1940. The Andrews family had strong connections with the Barbours, a cousin of Vera Smyth (Nellie Barbour) having married as her first husband Thomas Andrews of RMS 'Titanic' fame. The Smyth family still have in their possession a biography of Thomas Andrews inscribed "To Vera, lots of love Nellie." Norman Dickson Ferguson DL, of Clonaslee, also held the post of Director of the 'Belfast Ropeworks' at one time. In 1938 Wilson was appointed Chairman, holding this position until 1940. He maintained an interest in the ropeworks up until his death.

He was also involved with the development of road transport, being one of the first members of the Northern Ireland Transport Board and later its replacement organisation the Ulster Transport Authority, of which he became a Vice-Chairman.

Like his father, Wilson was heavily involved in Unionist politics, as were most of the linen barons at that time, being a member of the West Down Unionist Association and their Honorary Treasurer in 1918. When Sir Edward Carson came to Banbridge in September 1913, Wilson was a prominent member of the platform party.

Also like his father, he took a great deal of interest in public life and represented the following organisations:

He was a Deputy Lieutenant for County Down between 1925 and 1928.
Technical School Committee (1920).
Petty Sessions Committee (1920 to 1924).
President of Banbridge Hockey Club.
Member of the Ulster Club, Belfast.
Past Master of Masonic Lodge No: 7.
Master of the Iveagh Harriers.
Joint founder of Banbridge Golf Club in 1912 and its first Captain.
Captain of Royal County Down Golf Club in 1921, 1922, 1931 and 1945 and Honorary Secretary, 1936-1953.

Some mention of Wilson's golfing career must be made. He was a very keen golfer and took an active part in at least four clubs - Banbridge, Malone, Mourne and Royal County Down at Newcastle. He was an Honorary Life Member of Mourne Golf Club. In 1915 he took his seat for the first time on the council at Royal County Down Golf Club. In 1921 he won the Irish Open Amateur Championship played at Royal County Down. In September the club held a dinner in his honour and presented him with a gold-mounted hunting crop, a gesture Wilson no doubt would have appreciated as he was Master of the Iveagh Harriers at the time. He also rode with the County Down Staghounds. In the same year, 1921, HRH Prince Edward, Prince of Wales (later Duke of Windsor), on a visit to the Province, came to play golf at Royal County Down and was partnered by Wilson in the game. Vera, his daughter, stated that her father was never one for standing on ceremony and he made no exception for the Prince of Wales. After playing a round of golf with the Prince, Edward said to Wilson that he would see him that evening at a dinner he was holding in Hillsborough Castle. No doubt Edward would have been surprised when Wilson replied that he would not as he wouldn't be going. However, during the course of the day an invitation arrived from Government House requesting the presence of Wilson and his wife at dinner that evening. As Vera related, it was more or less a Royal command and even Wilson could not refuse. Apparently it threw her mother into the most awful panic as she had to get her hair done and decide what to wear at short notice!

A presentation board was erected in the Royal County Down Clubhouse in the 1920s recording his services to the club and his golfing achievements. He also represented Ireland at International level. From 1932 to 1938 he was President of the Golfing Union of Ireland and also once served as Vice-President of the Ulster Branch of the Golfing Union of Ireland.

Wilson's daughter Vera also recalled an incident when her father went to Royal County Down for a round of golf with his friend Charlie Cowdy. After the day's game, Wilson challenged Charlie to a race home, which he duly accepted. Their cars were not sporty ones although Charlie's was the fastest, therefore Charlie gave Wilson a head start. However, Wilson decided to play a joke on Charlie and on the way home he pulled in at a petrol station in Castlewellan and turned out his lights. Charlie drove by and Wilson then drove home at his own speed. The next day both men had a great laugh about the incident. Although not terribly interested in cars, like some of the neighbouring linen families Wilson did own a 12-year-old Rolls Royce, which he bought at a cost of £150.

In his younger days, Wilson played hockey and represented Ulster in the inter-provincial matches on several occasions and was once selected for an International trial. He was a member of the Banbridge hockey team when they won the Irish Cup in 1907.

Wilson died on 24th August 1953 aged 76 years in the Musgrave and Clark Clinic in Belfast. An instruction in Wilson's will stated that Herbie Anderson (Snr). an ex-factory manager, was entitled to live at Drumnagally Cottage for the rest of his life at a cost of one shilling per year.

A plaque was erected to him in Scarva Street Presbyterian Church, which reads as follows:



TO THE GLORY OF GOD
IN MEMORY OF DAVID WILSON SMYTH DL,
BROOKFIELD
NOVEMBER 12th 1876 - AUGUST 24th 1953,
ERECTED TO A LOYAL AND HONOURED MEMBER OF
THIS CHURCH BY A GRATEFUL CONGREGATION.



Information extracted from 'Smyths Of The Bann' by Paul McCandless.
[RFSS Dec 2006]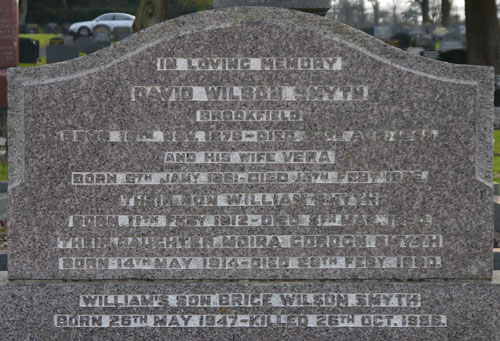 Headstone in Banbridge Municipal Cemetery, Co. Down

© 2011 Sinton Family Trees




IN LOVING MEMORY
DAVID WILSON SMYTH
BROOKFIELD
BORN 12TH NOV 1876 - DIED 24TH AUG 1953
AND HIS WIFE VERA
BORN 6TH JANY 1881 - DIED 15TH FEBY 1966
THEIR SON WILLIAM SMYTH
BORN 11TH FEBY 1912 - DIED 5TH MAR 1990
THEIR DAUGHTER MOIRA GORDON SMYTH
BORN 14TH MAY 1914 - DIED 26TH FEBY 1990
WILLIAM'S SON BRICE WILSON SMYTH
BORN 26TH MAY 1947 - KILLED 26TH OCT 1988

[RFSS Nov 2011]