Duchess of Richmond - Passenger Record

Name: Miss Bridget SINTON
Date of departure: 27 September 1938
Port of departure: Belfast
Passenger destination port: Montreal, Canada
Passenger destination: Montreal, Canada
Date of Birth: 1914 (calculated from age)
Age: 24
Marital status:
Sex: Female
Occupation: Nil
UK Address: Ballyards Castle, Armagh City, , Co. Armagh
Passenger recorded on: Page 6 of 8

Ship: SS DUCHESS OF RICHMOND
Official Number: 160631
Master's name: H. A. Moore
Steamship Line: Canadian Pacific
Where bound: Montreal, Canada
Registered tonnage: 11,821 gross tons
Service speed: 17.5 knots
Passengers: 1,570
Passengers on voyage: 44

[RFSS Sep 2010]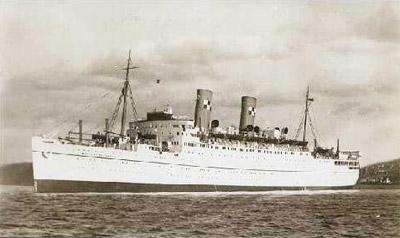 Canadian Pacific Line - S.S. Duchess of Richmond

Built by John Brown, Clydebank, Glasgow, Scotland in 1928.
Requisitioned for trooping 14th February 1940.
Refurbished May 1946 at Fairfield's, Govan, Glasgow, Scotland.
On 12th July 1947 she re-entered peacetime service again as the EMPRESS OF CANADA
On 25th January 1953 she caught fire in the Gladstone Dock, Liverpool and although salvaged in 1954 she was scrapped.